Garden Landscaping
A Specialist Garden Landscaping in Dubai Company
MESolar has been a leading landscaping company in Dubai for over 25 years. With a passion for innovation and creativity, we design and build stunning and unique swimming pools, landscaping, outdoor barbeques and kitchens, water features, pergolas, and gazebos. Our team of experts will provide you with bespoke design service and truly original swimming pool and landscaping solutions. We demand the highest quality and most efficient use of resources and guide you through every step of your project, offering an open dialogue with individual care and attention.
From design to post construction handover, MESolar is a turnkey garden landscape company in Dubai. We pride ourselves on delivering premium and unique landscape solutions. Our extensive project portfolio and client testimonial is a testament of our services. MESolar's team of experts brings 25+ years of experience, expertise, and professionalism to the table, along with a uniquely creative eye that will elevate your outdoor area, garden, and pool from ordinary to extraordinary. As one of the most sought-after landscaping companies in Dubai, we truly enjoy what we do. That is why we always aim for nothing but absolute perfection in all of our projects.
Our Garden Landscaping Services
MESolar has been providing premium landscaping services for over 25 years. We focus on providing innovative landscape designs, persistent supervision, and quality finishing. Our in-house team is equipped with the ability to design, construct, handover, and maintain the entire scope of any landscaping project.
We Take Pride in Offering the Best Landscaping Services to Our Customers:-
Unique landscape and swimming pool design
Completely in-house staff for designs, approvals, and construction
Overflow, infinity, skimmer, jacuzzi, and plunge pool installations
Outdoor kitchen and barbeque area with a pizza oven, BBQ, and sink
Irrigation system and horticulture details for all your planting and vegetable needs
Pergolas and gazebos with automatic roof louvers for complete shade from the sun
Water feature installations, including ponds, backyard waterfalls, and fountains
Custom garden trellis installation including arbors and more
Outdoor complete glass majlis with custom made firepits
Furniture designed and built by our team in our workshop
Lighting design, layout, supply, and installation
MESolar is a turnkey landscaping company that provides all its customers with their complete landscaping needs in-house. From softscape to hardscape and swimming pool constructions, we are your one-stop-shop!
Being a family owned and operated business, we strongly believe in word-of-mouth and referral marketing. Which is why we consider each project to be our number one priority regardless of the scope of work.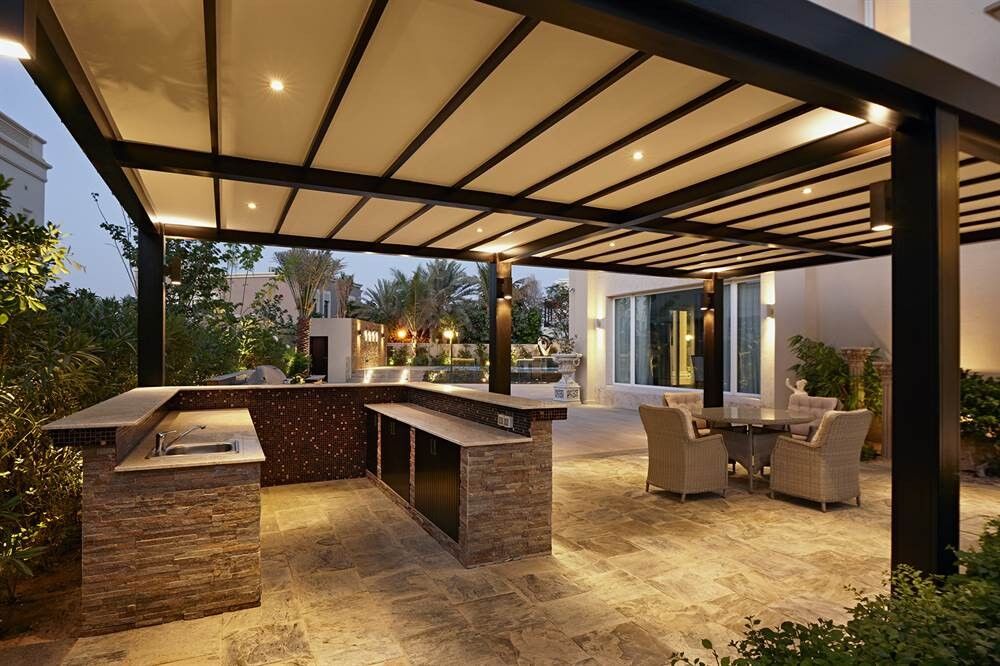 Why Hire Us for Landscaping Services in Dubai?
We are the Best Garden Landscaping Company in Dubai; we have provided our customers with the best quality and service for many years. We have a team of skilled and experienced landscapers who are well versed in all aspects of landscaping.
We understand that your garden is not just an extension of your house but also a place where you spend most of your time and relax in beautiful weather amongst nature. Hence, we focus on giving you the best garden landscaping services at affordable prices. Our clients can rely on us for any kind of landscaping project ranging from small or large-scale projects to design, planning, and maintenance services.
Here Are the Top Reasons Why Our Company Stands Out:
We Have the Right Team and Expertise
Regarding landscaping, we are committed to offering our customers the best service possible. This is why we have a wide range of well-trained and skilled staff in their respective fields. They know all the latest tools, designs, and trends that can help you transform your garden into a masterpiece.
We Are Always up to Date With the Latest Tools, Designs, and Trends
We always keep ourselves abreast with the latest equipment and accessories so that we may offer our clients the best services at all times. This is because our team is constantly striving to stay ahead of the game in providing our clients with quality landscaping services at an affordable price!
We Offer Customized Solutions for Each Client's Needs
We understand that each client has different needs and requirements. To fulfill those needs, we will work with you to understand your vision, budget, and timeline. Once we have all these things set, we will work with you to customize a solution that meets your budget, schedule, and other needs.
You Will Get Much More Than Just Planting Flowers
We ensure that our clients receive more than just flowers when they come to us for landscaping services. We also offer customized landscape maintenance plans that ensure your plants stay healthy and beautiful all year!
Our knowledgeable staff members are always available to assist you with any questions or concerns regarding the entire process of hiring us as your professional landscaper. They will be happy to answer any questions or concerns during the project.
MESolar is excited and eager to work with you. Contact us on +971 55 212 2116 to know more!